Our History
Twenty years is seemingly a long period of existence for a relatively small society. However, despite facing substantial handicaps the Indian CANCL Group has steadily grown and achieved wide recognition within the country as well as from the International and Regional Bodies.

The CANCL (Child Abuse and Neglect and Child Labour) Group was initiated in 1996 at the IAP Conference held at Mangalore on 4-7 January. Dr RN Srivastava was the IAP President, Dr YK Amdekar Past President, Dr A Parthasarthy President elect, Dr Swati Bhave, the IAP General Secretary and Dr Sanjeev Rai, the Organizing Secretary of the conference. The theme of the conference was "Children's Rights : Our Concern". In his Presidential Address Dr Srivastava mentioned that IAP had been doing outstanding work in promoting excellence in curative and preventive areas, particularly in developing various pediatric specialties and education. He emphasized on the need for pediatricians to take a comprehensive view of child care and try to tackle the socioeconomic issues that adversely impact health and development of children. At a plenary session on "comprehensive child care" the participants drew attention to various difficulties faced by underprivileged child population that comprised the large majority in our country. The problems of child labour and abuse of children were serious issues and IAP needed to advocate on them. There was wide support for these views.

A committee of IAP termed "Child Abuse and Child Neglect and Child Labour (CANCL) Committee" was constituted with the broad aims of addressing various problems of underprivileged and marginalised children. A small fee was charged from those becoming the members. Gradually the response grew and several senior IAP members from different parts of the country joined and took an active promotional role. Dr Indira Narayanan and thereafter Dr RN Salhan were the Chairpersons and Dr. Kiran Aggarwal (Secretary) managed the activities of the CANCL Committee. The membership had reached 100 by 2003. The CANCL constitution was framed and approved at the General Body Meeting at IAP Pedicon 2003.

The preamble of the CANCL constitution includes statements that continue to remain relevant. It says "a majority of children in India face serious problems other than directly health related ones, the origins of which may be poverty, burgeoning population and deep entrenched, callous social attitudes towards children. Over a third of the child population in our country suffers from undernutrition, and lack of appropriate education and opportunities for optimal development. A large proportion is exploited in various forms, and several million (who should be in schools) contribute to the country's labour force. Governmental efforts for several years have been inadequate to tackle this serious and worsening situation". The chief objectives included to (a) reach out to the neglected, deprived and abused children for their comprehensive needs including healthcare, education and development, rehabilitation and to protection; (b) to create social and community awareness of the problems of CAN in its various forms and child labour and; (c) to bring about attitudinal changes" .

Activities of CANCL Group during the first decade
During the initial period attempts were made to contact paediatricians interested in the problems of CAN and the difficulties facing the underprivileged children. Gradually the membership increased. Some of the activities of the CANCL Group during the first decade were as follows: The first national conference of the CANCL Group was held at Rewa, MP, organized by Prof Harmesh Singh in January 1999. Subsequently, in February '99, at the conference of the International Society of Tropical Pediatrics held at Jaipur, the CANCL Group held several symposia on child abuse and exploitation, child soldiers (at which Dr Harendra De silva from SriLanka talked about the plight of such children), population and child health and child labour. The Pune members held a bicycle rally from Pune to Bangalore to join the Pedicon 2002, to draw attention to street children and working children. One of our earliest meeting was on Child labour, held together with Inner Wheel (Rotarians) at which Swami Agnivesh participated. He made a very emotional appeal to all for crusading against all forms child labour and putting these children into schools. Dr Narayanan supported his views, but recognised the difficulties in the face of grinding poverty of the child's family.

A detailed report submitted to the IAP President in 2003 ( Chair Dr RN Salhan, Secy Dr KiranAggarwal, Advisors Dr Shanti Ghosh, Dr RN Srivastava, Dr Swati Bhave) mentions the Group's advocacy on child trafficking, children with disabilities and learning disorders, education for the girl child, AIDS orphans, health care strategies for street children and working children, children of sex workers, helping disabled children to get school admission and collaboration with International Labour Organization (ILO) on International day against child labour (12 June). The Group participated in a large number of workshops, conferences and celebrations jointly with Govt departments and NGOs.

At a meeting of CANCL Group held on the occasion of the 30 IAP National Conference at Kolkata in 2003, Dr Kiran Aggarwal gave up the charge as Gen Secy. The members deeply appreciated the hard work done by her during the formative years of CANCL Group. Dr Rajeev Seth took over as the Secretary. Dr SR Banerjee was the Chairperson.

A CANCL Newsletter was started as a quarterly publication. The 1st and 2nd issues were released at IAP Pedicon 2002. The theme of the 2nd issue was "Girl child is asset to the nation" ! The newsletter has been regularly published thereafter. Dr Rajeev Seth was elected as the Chairperson in 2011.

Adoption of a village. The Delhi members adopted a village called Bhango in Dist. Mewat, Haryana. It comprised an impoverished and illiterate population of about 5,000 with very poor connectivity and non-existent infrastructure. Our team worked with the primary school providing assistance in teaching, meeting the health needs of children. They made regular visits over the next few years that resulted in substantial overall benefits to the village. We gained a close insight into the problems of a representative rural the community of our country, their attitudes and the difficulties of working at the ground level. A team lead by Dr Rajeev Seth has been working for several years to provide care and rehabilitation to abandoned and street children in parts of old Delhi. Our members in several States in the country have carried very notable work in the community, which has been regularly published in CANCL newsletter.

The subsequent decade
The CANCL Group was registered nationally as Indian CANCL Group with the Registrar General of Societies in 2010 (Reg No. S/68745/2010). The memorandum gives our constitution. It was decided to enlarge the scope of the CANCL committee and make it a CANCL Group and offer Associate membership to those outside the IAP who were working in the wide areas of child welfare (eg teachers, lawyers, social workers and experts in different fields). It continues to follow the rules of the IAP as those for a chapter/Group and submits its annual report to IAP. It participates in IAP annual conferences and hold symposia and expert talks on various CAN issues.

The ICANCL Group logo shows a boy and a girl jumping over barbed wire, which represents the shackles of abuse, neglect and child labour. The girl holds a book and the boy a ball, symbolozing education and childhood. Both girls and boys must be in school, and enjoy their childhood. The rising sun represents hope and future, perhaps assured by all those who care for children.

ICANCL Group and International Society for Prevention of Child Abuse and Neglect (ISPCAN). Dr Rajeev Seth was elected as a regional representative on the council of the ISPCAN in 2012. He has regularly participated in its council meetings and its International and Regional conferences, and advised them on organizational matters.

9th Asia Pacific Conference on Child Abuse and Neglect. The ISPCAN council accepted the BID of ICANCL Group to hold this prestigious conference at New Delhi in 2011. It was a major undertaking in view of the fact that such a conference had never been done in India. The Group had the support of the Ministry of W & CD, several leading NGOs and the National Law University Delhi. The conference was held most successfully on 6 -9 October, being inaugurated at Vigyan Bhawan (which by itself was singular recognition) by Hon Minister of Law and Justice, Shri Salman Khurshid in the presence of ISPCAN President and senior officials from the Ministry of Women & Child Development. There were 800 participants from 44 countries from all over the world. The speakers at the conference included leading experts on various subjects. Shri Kailash Satyarthi (subsequently a co-awardee of Nobel prize for peace) spoke about his experience with rescuing bonded child workers. A highlight was the ICANCL Group's contention that denial of health care and education to children represented a serious form of neglect. A Delhi Declaration was adopted by all the delegates. A book "Child Abuse and Neglect: Challenges and Opportunities" that included contributions by eminent experts was subsequently published.

Symposia. The Group has held a number of symposia on crucial childhood issues with wide representation from several agencies. Some of these include Right to Health, Child Trafficking, Care of the Preschool child and Child sex abuse. The reports have been published in the CANCL newsletter.

Advocacy and collaboration with NGOs. ICANCL Group has closely worked with Govt agencies (NCPCR, NIPCD), Indian Medical Association, Delhi Medical Association, National Law University, Delhi and a number of NGOs including India Alliance for Child Rights, ICCW, World Vision, PLAN, SAVE, HAQ, PRAYAS, BUDS, UDAYAN, ARPAN and many others.

Our members have participated in their advocacy and policy meetings. Our members have been carrying out working with child welfare activities in several parts of the country notably in Kolkata, Chhattisgarh, Udaipur, MP, Pune, Mumbai, Bengaluru, Kerala, Haryana and Delhi.

Recognition of ICANCL Group members. Dr Pukhraj Bapna (Chhattisagrh) is the recipient of Padmashri. Dr. Shabina Ahnad received the National Child Welfare award from President of India 2015. Dr Rajeev Seth, Dr RN Srivastava and Ms Pooja Taparia have been recognized by ISPCAN with its Distinguished Service Award.

Looking ahead
The problems of the impoverished, illiterate and marginalised population continue to plague us. Malnutrtion, lack of education and common diseases affect a majority of child population. Various forms of abuse and exploitation appear to be on the increase. The Govt has several schemes and programmes to help the children, and sufficient legal provisions exist, but limited resources have been provided and the implementation of the plans remains poor. ICANCL Group will make every effort to enlarge its membership from the medical profession (especially paediatricians), other professions and civil society. It will expand and strengthen its collaboration with NGOs and all others working for child welfare and aggressively advocate on behalf of children. We would expand our work in the underprivileged communities and inform and educate them about child rights and care of the child. ICANCL Group will closely work with similar organizations in South Asia.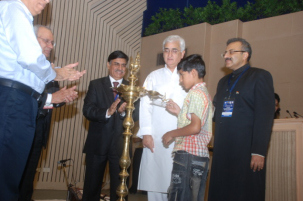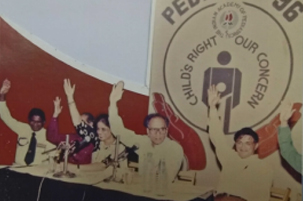 Excerpts from the Presidential address given by Dr. RN Srivastava at rd 33 Conference of IAP at Mangalore, on January 4,1996.
"We are now a fraternity of over 8,000 from all parts of the country and make a sizeable force. Our combined efforts can achieve a great deal for the children of our country."

"---the Academy must devote more time and efforts to tackle various other serious problems of children that affect the quality and the dignity of the child's life and prevent his optimal development.

The Academy has adopted "Comprehensive Child Care" as its motto. We need to be concerned with all aspects of the child's health and development, and not merely with the sick child and prevention of disease. Comprehensive Child Care entails, in addition, various aspects of child development, education, environmental aspects and prevention of child abuse and exploitation. Adverse socioeconomic factors, lack of education and overall awareness, large family size and poor rural development are the chief factors that lead to the poor quality of life for a majority of our children. In view of the large child population, the problems of underprivileged and handicapped children (using these terms in a wide sense) and child abuse and exploitation in various forms have assumed gigantic proportions.

In our country, Child Labor has recently emerged as a major issue, partly because of its economic and trade implications. The media have highlighted the plight of working children. One can only imagine what it feels to look at life through the eyes of a child who is hungry, deprived and abused. The Government is determined to eradicate child labor, and the Academy must add its might to all efforts being made by the Government and other agencies in that direction. I repeat, mere survival is not enough, and we must go beyond saving lives. We keep on saying "children are our future", but what is the future of our children? Whereas the society must rise against many injustices and evil practices, the Academy must be the advocate for children and act on their behalf.

There are many other developing countries which face similar problems of children. The 21st International Congress of Pediatrics was held at Cairo in September 95. In her Inauguration address, Mrs. Hosni Mobarak (wife of the President of Egypt) said, and I quote "increased survival with a low quality of life is not a desirable option". Talking about Comprehensive Child Care, she emphasized the educational, social and cultural aspects, besides the health needs, and called for an integrated approach taking into account all of these components.

A majority of children in our country, as in many other developing countries, face ill health and disease. Many are subjected to deprivation, neglect and exploitation. In this scenario, the Academy must play a wide role. It must speak and act. The problems are enormous, complex and almost intractable. We need to find appropriate ways to deal with each issue. I have alluded to the burgeoning population. Drastic maladies need drastic remedies. No child should come into this world as a bye product or as a side effect. But once he is here he deserves our best.

I conclude with a quote from the Declaration at the World Summit for Children held at New York in September 1990, "Children of the world are innocent, vulnerable, and dependent. Their time should be one of joy and peace, of playing, learning and growing. Their future should be shaped in harmony and cooperation.